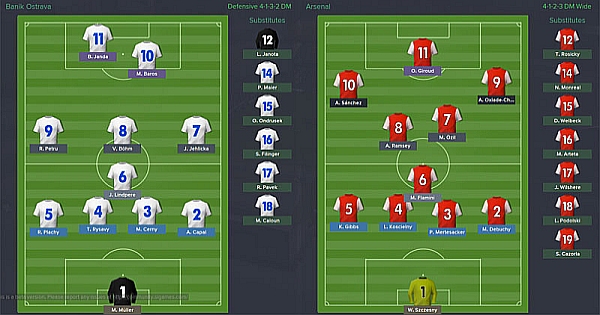 A lot of tactics are available for managers to use in order to win their games with ease. Few of these Football Manager Tactics are discussed below: 4-1-2-3 Tactics, 4-4-2 Tactics and 4-3-3 Football Manager Tactics.
The 4-1-2-3 Football Manager Tactics
Are you looking for devastating attacks, edge of your seat Football, or a lot of excitement? Then 4-1-2-3 Football Manager Tactics is for you. With this formation, your team will score many goals, odd red card, pressing Football, and lots of fun.
With this Football Manager Tactics, there are two central defenders and half back who serve as the security blanket of the team while the team manager keeps team instruction the same in spite of the opponent. However, you may need to give counter instruction, if you discover that your opponent has dominated the mid-field and you continue losing ball possession. Playing a bit wider will help in this situation.
The 4-4-2 Football Manager Tactics
This Football Manager Tactic will create chances, dominate ball possessions, score goals and keep everything rather tight at the back. This is a tactic that has been proven with Swansea City in the 2015/2016 premier league and the results were outstanding.
You may call this a 4-1-3-1-1 formation or something else but it a 4-4-2 formation because it began as an archetypal 4-4-2 and works as a 4-4-2. This is a formation where a defensive midfielder is used to reduce the space right in front of the two central defenders and offer a defensive cover. The second striker will withdraw to the attacking midfield to give a link between the striker and the midfielder.
The 4-3-3 Football Manager Tactics
The 4-3-3 formation has been more successful of all Football Manager Tactics in the history of Football. Clubs such as AFC Ajax, FC Barcelona, and Arsenal have made the 4-3-3 their secret formula for success. You can transform the fortunes of your darling club by making use of a single-pivoted 4-3-3 Football Manger Tactics.
4-3-3 tactic is centered on letting your players pick out a short pass and play in the wide areas as much as possible. The most significant team instruction to this tactic is that the passing directness is focused on shorter passes and with that being supported with the fact that nine out of the eleven players on the field should keep away from distributing risky passes as much as possible, in order for their team to retain possession of the ball very well.