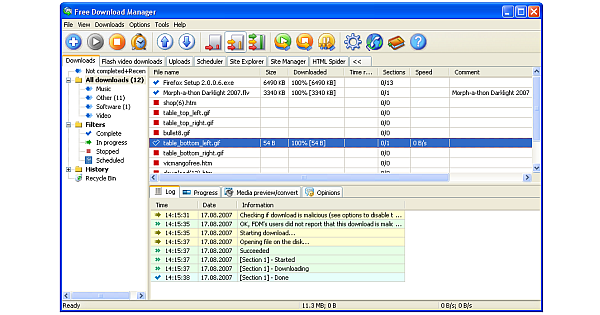 Obtaining files from the Internet is a common task these days as a result of technological advancement. Nevertheless, it seems slow and will be looking to a situation where you can make use of a faster tool such as the Free Download Manager (FDM). Free Download Manager is essentially made to manage files download, as its name suggests.
Free Download Manager or FDM an adaptable and open-source download manager program that will boost download rate, assist you when you want to download different types of files, and continue any broken and disrupted download. FDM give supports to diverse kinds of web protocol including HTTP, HTTPS, and FTP.
Free Download Manager features BitTorrent protocol for downloading video files on sites like Google and YouTube. There is also a notification system added in the program that will tell you if the file you are downloading is unsafe or not. In addition, each user of FDM can post advices to update a downloader, concerning file status.
Without doubt, this is a download manager premeditated for Microsoft Windows. FDM can carry out multiple downloads at the same time.
The System Requirements for FDM

The system requirements for Free Download Manager is usually Microsoft Windows XP SP1 or above.
Key Features of Free Download Manager
Site Explorer – This is the FTP client feature
Torrents – Lets you download torrent files
Downloads – This is merely a download manager and the crucial point of the FDM program
Flash video downloads – Helps you download FLV video files from Google Video, YouTube and other websites
HTML Spider – Downloads a website by following and downloading links accordingly.
Scheduler – Allows users to build and manage list of tasks to be done at a preset time.
The Site Manager – Lets you inform FDM how to act with specific sites like websites that need authentication, or the umber of download connections that a website can allow from the user concurrently.
Pros
Divides large file into portions
Intuitive interface
Remote control through the Internet
List of URLs import from clipboard
Cons
Downloaded file is difficult to locate on computer
Confusing help
Free Download Manager Review

If you want to process and keep track of your downloaded files, Free Download Manager is an exceptional tool for you. It comes with a lot of amazing features that will make your downloading a breeze and it is free for all. This is a good alternative for you to give a try, particularly if you download many files.