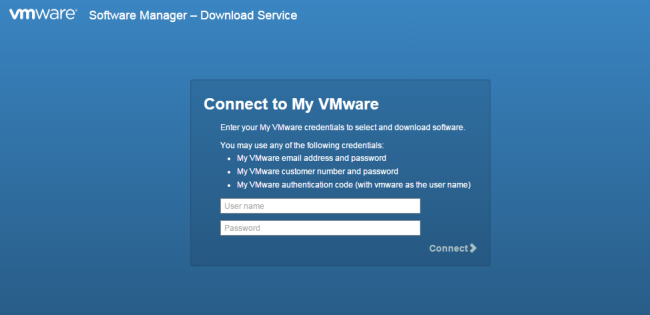 VMware Software Manager is simply a tool designed for the management of VMware suite products. With this tool you can browse and download software, keep an eye on how download is progressing, and also locate your downloaded software in an organized folder structure.
VMware Software Manager simplifies the the download of Vmware product and suites considerably. This VMware software manager is diminutive 16mb MSI package that installs on Windows machine. It opens a dashboard where you can get the suite downloaded when it is opened with any of the two possibilities below:
Clicking on ">" sign on one of those cards – Once you do this, it will expand and let you select individual software that are part of the suite.
Clicking on the Start Download icon – Takes hold of of the entire software suite having 66.2 GB size
Supported Browsers
Google Chrome 39 and 40
Firefox 34 and 35
Internet Explorer 10 and 11
If you are faced with problems, there is a VMware community where you can obtain necessary assistance. There are certain problems associated with connections or maybe if the page is not responding. All you need to do in this case is to restart the service by leaving and re-starting the application again. This is an exe application that sits in a taskbar. Hence, you can do a right click > exit easily.
Also available is Change Setting located in the menu when you are doing right click on the taskbar icon, but this will not let you change the location of the download
You will have go through the Windows start menu > VMware > Download Service in order to restart the app.
This free Software Manager will download whatever item you want to download in a single click, depending on your prerogative in My VMware.
Just get the VM ware Software Manager downloaded and get it installed in your Local desktop and access the Download service as well as a single click to get all your software downloaded from vSphere Suite.